---
TPO, EPDM Rubber & Built-Up Roofing System
The Triangle is one of the hottest markets for growth in the country. For business owners, this can mean expansions and upgrades to house employees, grow production capacity, accommodate new customer and more. Pickard Roofing is equipped to expertly handle new roofs, re-roofing, repairs and maintenance for all commercial and industrial facilities.
---
---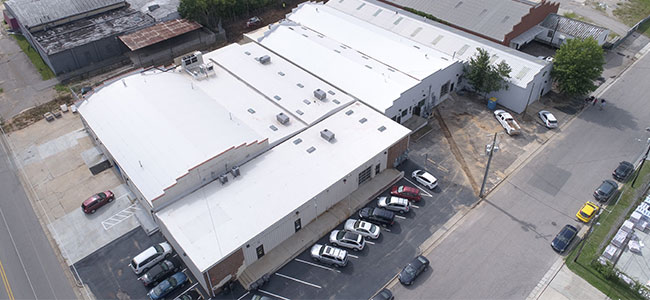 Commercial TPO
TPO Roofing Solutions for Commercial Properties in the Triangle
---
When your building is topped with a flat or little to no sloping roof, a TPO or thermoplastic polyolefin roofs installed by Pickard Roofing are the right choice.
The Benefits of Thermoplastic Roofing Membranes
TPO Thermoplastic polyolefin (TPO) systems are single-ply roofing membranes and continue to be the most popular choice for business and home owners with low slope systems. TPO offers several important benefits including:

Strength The TPO roof is resistant to breakdowns, corrosion, and abrasions of any kind. In addition, their heat-welded seams are extremely strong, adding to the durability of the TPO roof.
Green - TPO has a high reflectivity of light (high SRI) and meets ENERGY STAR® Specifications.
Low Maintenance – The strength of the TPO roofs makes them easy to maintain, requiring minimal repairs.
Climate/Weather Resistance – Neither wind, UV light, hail, nor extreme temperatures can match the performance of a TPO roof installed by Pickard Roofing Company.
---
Commercial EPDM
Pickard Roofing is the Triangle's source for EPDM Commercial Roofing
---
EPDM, or ethylene propylene diene terpolymer rubber roofing has been popular for its high performance. Pickard Roofing has seen this performance first-hand, after installing countless EPDM roofing systems on commercial buildings across the Triangle.

Our experts are the Triangle's preferred roofing contractors: installing, re-roofing, designing, maintaining, and repairing EPDM rubber roofs.
---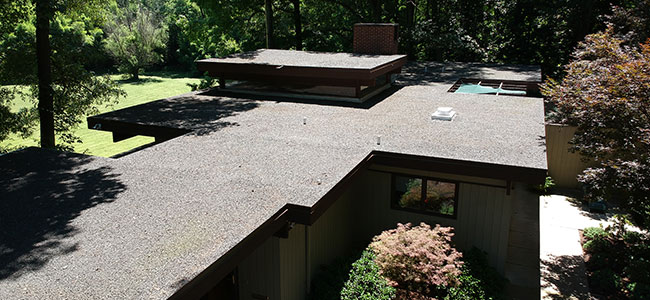 Commercial Built-Up
Your Source for Commercial Built-up Roofing in the Triangle
---
When durability, longevity and quality are important, Pickard Roofing offers its premium line of 4 ply built up roofing. The multiple layers of fiberglass fabric and asphalt in built-up roofing protect your business or home with redundancy.

Because the elements and traffic can take their toll on some areas of even the best roofs, the second, third, and fourth layers ensure worry-free protection. Pickard Roofing's attention to detail truly sets our built-up roofs apart. We often include copper flashings and surfacing, which together improves premature failure due to corrosion. This means our built-up roofs can provide as much as 40-50 years of protection.

In addition to traditional built-up roofing, we also install modified bitumen roofs when the odors associated with asphalt are an issue. This type also serves well in high foot traffic areas in commercial situations.
---

Contact our Commercial Roofing team to request a site consultation.