For many homeowners looking to replace their shingle roof, choosing an asphalt shingle color choice can be very difficult. There are many factors to consider, including aesthetics, energy efficiency, the style and build of the home, and future home improvements.
If you're a homeowner who is thinking about installing a new shingle roof, you have an important decision to make. There are thousands of different shingle colors, types and patterns to choose from. Here are some of the most common ways homeowners choose shingles for their new roof that complement their home.
Coordinate Shingles with Siding and Shutters
For many homeowners, one of the easiest ways to complement their roof to their home is to match their shingles to the siding and shutters of their home. You can ask your roofer for shingle samples in different colors, then hold them up to your siding and shutters to find the best fit. It also helps to look at the samples at different times of day to see how the shingles look in different lighting.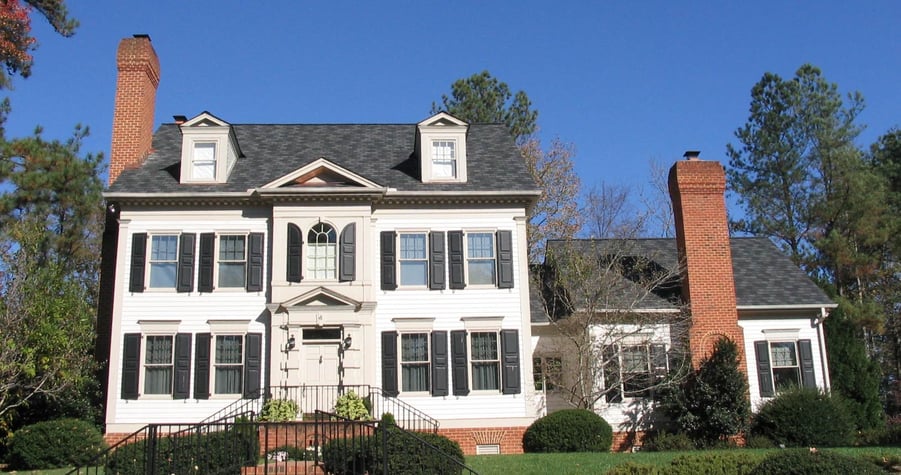 Pickard Roofing installed this home's asphalt shingles to complement the dark shutters and white siding of the home.
Consider Your Home's Architectural Style
Different architectural building styles look best with different shingle colors and styles. For example, homes with natural wood siding in tree lined areas look best with deep forest green or brown shingles. For a beach house in light, breezy colors, install a light colored roof. Stucco sided homes are often complemented by rusty red or orange colored shingles. Stately and traditional homes tend to look best with a neutral, conservative roof.
Can't Decide? Try Color-Blended Shingles
Color-blended asphalt shingles offer homeowners a way to add intrigue to their roof. Common color-blend combinations include warm browns and reds, cool blues and greys, and even blends of green. CertainTeed Landmark and Owens Corning Duration Designer are two types of shingles that have a variety of color-blend options to choose from. It's best to remember that the plainer your home's siding is, the more varied your color-blending can be. If you home's siding includes a variety of materials and colors, color-blend shingles may clash.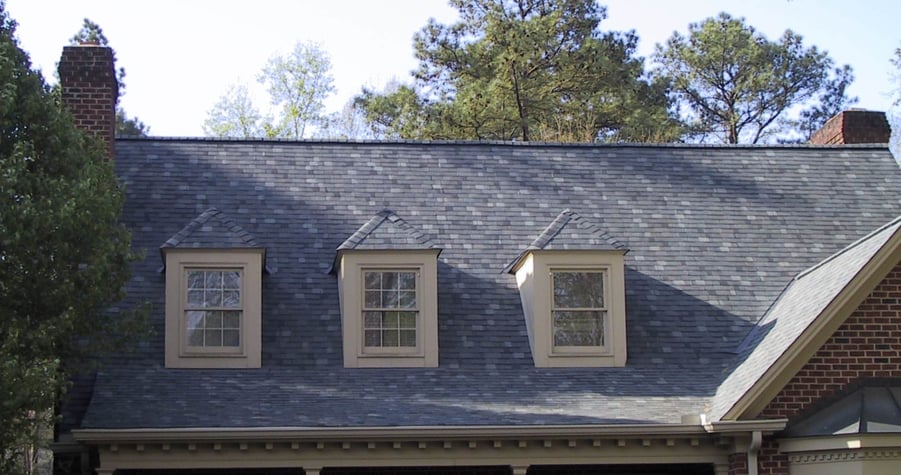 Color-blend shingles add a visual aesthetic to this home's brick exterior structure
Consider Your Climate
If you live in colder areas, you'll need to consider different asphalt shingle choices than homeowners in warm climates. This is because darker shingles absorb more heat than light colored shingles. During hot days in warm climates, there may be a 50 degree difference between an attic with dark shingles and one with light shingles. A hot attic can force a home's air conditioner to work much harder during the summer, which can contribute to HVAC wear and tear. On the other hand, a dark shingle roof in a colder climate may be slightly more energy efficient. Dark shingles help heat the attic and reducing the burden on the home's furnace at cold times of the year.
Create Visual Balance
Your home's height and overall style should factor in to your asphalt shingle choice. Light-colored shingle roofing can make a multi-level home seem off balance. For these types of homes, darker roofs can draw the eye upward, giving the home a top-down visual appeal. Meanwhile, dark colored roof shingles can make a single-story homes look smaller and shorter than they really are. For a single-story ranch-style home, a medium toned colored roof often looks best. Blending asphalt shingles with metal roofing is also a growing trend for homeowners.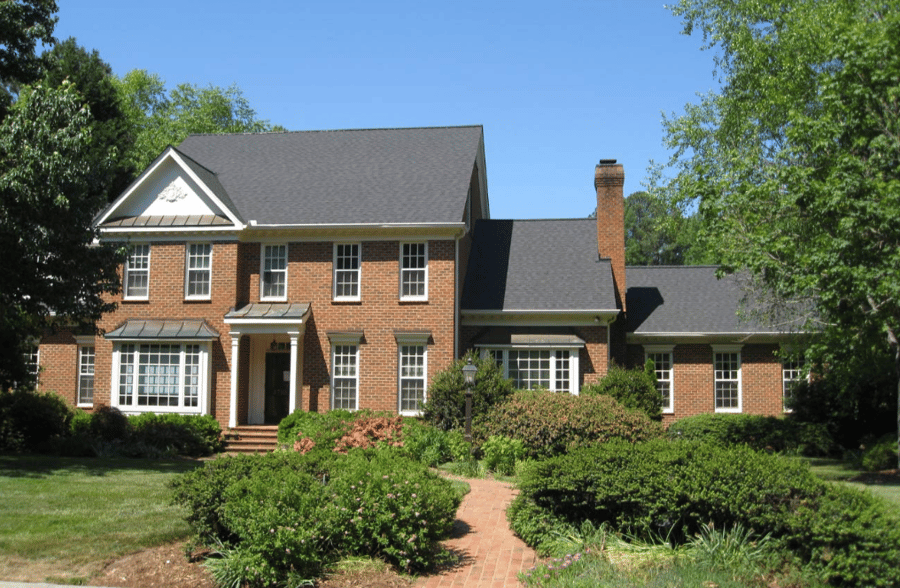 Pickard Roofing installed a dark asphalt shingle on this home's roof to draw the eye upward on this multi-level home
Make Use of Technology
Many roofing supply companies now provide apps to their customers to help them visualize the way a new roof would look on their home. For example, CertainTeed Colorview enables homeowners to upload a picture of their house, and then swap out different roofing colors by CertainTeed.
Certainteed Colorview also allows homeowners to manipulate the siding colors and roof type on a sample picture of a home. This can help users imagine how different siding, trim, and roofing syles and colors look in proximity to one another.
More Helpful Tips
Some roof colors are very hard to match to other colors. Red, green, and blue shingles, for example, only look right when side by side with very specific types of siding. Shingles in neutral colors are much easier to match, so if you're thinking about changing your home's color any time in the near future, select shingles of a neutral shade.
If you've tried the software, held sample shingles up to your home, consulted with members of your household and you're still not sure what kind of shingles are right for your home, you can talk with your trusted residential roofing expert. These professionals have seen thousands of roofs, and will be able to provide you with insight on how to best complement your shingle roof and home.
At Pickard Roofing, we think Design. Craft. Renew. We are experienced in all types of roofing systems- and provide the right roofing design and selective craftsmanship for renewing our customer's assets. We invite sustainable building customers to give us a call for your free evaluation. For over 90 years Pickard Roofing Company has installed countless metal, tile, slate, TPO, EPDM, and all types of shingle roofing in the Triangle. Our services include residential, commercial, custom architectural metal fabrication, and historical renovation.