Dec-Tec is a walkable protective surface for outdoor decking, walkways, stairways and balconies. Dec-Tec is an ideal roofing solution for roof areas that have high foot traffic, areas that heavy equipment is stored on, or for homeowners who want a more durable product.
Dec-Tec has been trending in North Carolina for both homeowners and commercial business owners. Whether you're installing a new deck or refurbishing an older structure, Dec-Tec should be considered as a roofing solution for your home.
What Is Dec-Tec?
Dec-Tec is a single-ply vinyl decking membrane that can be fitted over decking and outdoor wooden walkways. This roofing solution can be used on residential or commercial properties.
Dec-Tec membranes are created when molten liquefied PVC is spread directly through multi-directional fiberglass. The unique spread coat process contributes to the durability and longevity of the product. Dec-Tec provides waterproofing, fire protection, solar, and slip resistance to outdoor surfaces. Dec-Tec is a walkable roofing solution that is commonly used on roof decks, balconies, and flat roofs. This durable factory finished product is textured and attractive, and comes in a variety of colors to match your taste.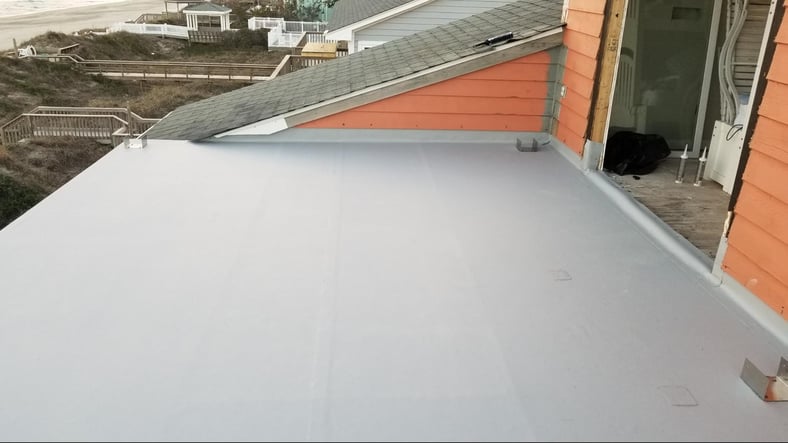 Pickard Roofing installed Dec-Tec on this beach house balcony in Coastal North Carolina
Pros of Dec-Tec
As a versatile roofing solution, Dec-Tec offers a variety of advantages.
Waterproof
Many property owners spend hundreds of dollars and hours of their lives refinishing their deck and wooden walkways. Unlike wood, Dec-Tec does not lose its water-resistance properties. As a fully waterproof membrane, Dec-Tec you can increase the service life of your roof, deck, or balcony.
Mold-Resistant
Many homeowners struggle with moss and algae on their roofs and decks. It should come as no surprise that Dec-Tec is also resistant to mold, due to its waterproof material. In damp, shady, and humid areas this mold-resistant roofing solution can help protect outdoor surfaces from rot and structural degradation.
Slip-Resistant
For homeowners prone to slips and falls, slip-resistant decking like Dec-Tec makes walking on outdoor surfaces safer.
Aesthetic Appeal
Dec-Tec comes in a variety of colors and styles to make outdoor surfaces more attractive. Dec-Tec allows homeowners to match their roofing surface or deck to complement their landscaping, home structure, and even accents like deck furniture.
Fire Retardant
In the event of a household fire, Dec-Tec will self-extinguish if the source of the fire is removed. This makes Dec-Tec ideal for outdoor spaces that share grills or fire pits.
Reflects Light and Heat
Many roof and deck materials absorb heat easily and become hot to the touch. Dec-Tec stays cool on hot days by reflecting light from the sun back up into the atmosphere. This makes Dec-Tec an energy efficient roofing and deck solution. Homeowners who like to walk barefoot on their outdoor decks, balconies, or walkways can do so without sustaining burns.
Low-Maintenance
While regularly cleanings will help Dec-Tec look its best, this roofing solution is low-maintenance in comparison to others. Dec-Tec rarely needs any maintenance, and can last for decades.
Durable
Dec-Tec is praised as being "high traction," meaning that it can withstand years of regular foot traffic and wear. This is advantageous for balcony roofs and decks as Dec-Tec won't fall apart, flake, or crack.
Want Dec-Tec? What to Do Next
Dec-Tec is best installed by an experienced professional commercial roofing expert. If you're a homeowner who would like to install Dec-Tec on your home's balcony, deck, walkway, patio, or flat roof, contact a local roofing expert who also specializes in residential roofing. Both your roofing expert and Dec-Tec can even provide you with samples of Dec-Tec products to make your purchase decision easy.
At Pickard Roofing, we think Design. Craft. Renew. We are experienced in all types of roofing systems- and provide the right roofing design and selective craftsmanship for renewing our customer's assets. We invite sustainable building customers to give us a call for your free evaluation. For over 90 years Pickard Roofing Company has installed countless metal, tile, slate, TPO, EPDM, and all types of shingle roofing in the Triangle. Our services include residential, commercial, custom architectural metal fabrication, and historical renovation.