When it comes to building, maintaining, and repairing your commercial or residential roof, there is rarely just one solution. The full-service expertise a professional roofing company provides will ensure your roofing needs are completely met. With knowledge and experience in all areas of roofing, your roof will be in good hands no matter how big or small the project. Here are the reasons why you should always choose a full-service roofing expert to work on your roof:
Experience
Your roof is one of the most complex structural elements of your home or business. When you choose DIY repairs or hire a general handyman, there is no guarantee that the work completed will correctly fix the problem or last long-term. This means lost time and money that could be spent elsewhere. Your professional full-service roofing company will be knowledgeable in roofing areas like:
Attention to Slope - Small details like the attention to the slope of your roof are crucial when working on roofs. Low and high slope roofs will require different levels of service that a full-service roofing company will be able to identify.
Gutters - A full-service roofing company should be fully knowledgeable about the gutters currently in place on your roof, and how to work on your roof to best work with these gutters.
Maintenance - A full-service roofing company will be able to not only provide services for your current roofing needs but should be able to assess your roof and give recommendations for general maintenance needs.
Green Solutions - Professional roofing companies should be knowledgeable in sustainable and eco-friendly roofing solutions.
Professionalism & Organization
Working with a professional roofing company means professionalism and responsibility will be ensured during every step of your business interaction. Providing proof their company is insured, keeping detailed records of any work done on your roof, and making professional assessments to provide superior customer service are all part of a responsible roofing company's business.
Maintenance
Just like every other part of your home, your roof will need periodic maintenance to last a lifetime. Temporary fixes and shortcuts for your roofing issues should be avoided at all costs. If the repairs or maintenance done on your roof are done incorrectly, you risk having to waste more resources in the future on repairs to correct cheap or even dangerous repairs. Roofing companies with full-service expertise like Pickard Roofing will always work with the long-term life of your roof in mind. Even when it comes to roofing repairs, we often design custom patches and flashings rather than providing a simple patch job. When responsible, quality repairs are made to your roof, maintenance in the future will be easy to upkeep.
The Pickard Process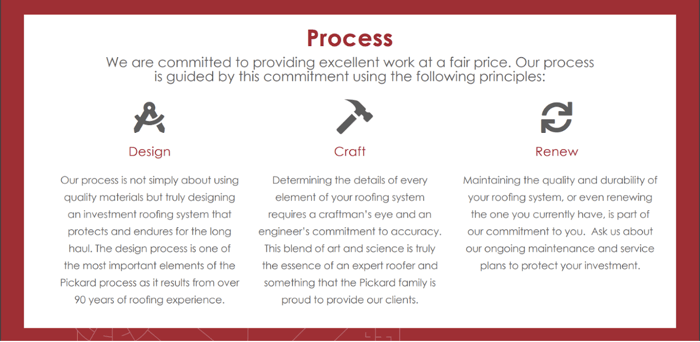 The Pickard Process is Pickard Roofing's commitment to the following principles:
Design - Pickard Roofing guarantees quality not only with materials and service but with the actual design of your roof.
Craft - Art and science are at the forefront of Pickard's expertise. Your roof will be crafted, not just 'built'.
Renew - Pickard Roofing will create roofing solutions that will last a lifetime and will help you maintain your roof every step of the way.
At Pickard Roofing, we often take knowledge from one roofing style and apply it to a different one to create the best solution. We understand that roofing is complex, and in many cases, there are many styles of roofing that need to be implemented into a single project. This is why our employees are trained in various styles of roofing, making us a more complete roofing professional than our competitors.
Your roof is a crucial aspect of your home or business, and trusting a professional ensures that residential and commercial roofing needs are met with professionalism, experience, and quality work. If you are still on the fence about whether or not a full-service roofing professional is the right choice for your roofing needs, contact us for a consultation.
At Pickard Roofing, we think Design. Craft. Renew. We are experienced in all types of roofing systems- and provide the right roofing design and selective craftsmanship for renewing our customer's assets. We invite sustainable building customers to give us a call for your free evaluation. For over 90 years Pickard Roofing Company has installed countless metal, tile, slate, TPO, EPDM, and all types of shingle roofing in the Triangle. Our services include residential, commercial, custom architectural metal fabrication, and historical renovation.