The design, material, and construction of your gutters are a crucial part of any structure's drainage and water management system. A well-designed gutter system will carry water away from the house or building. Gutter drainage is usually directed to enter the sewers, water the grass, or carried to the far edges of the property. Without gutters, water would run off of your roof and puddle around the foundation, causing leaks, soil heaving, foundation cracking, and other serious problems.
Gutters will typically last around 20 years, and even longer if they're made of copper. It is important to be selective in your choice of gutters for your home or property. High-quality gutters will carry more water, are less prone to clogs and leaks, and will protect your home or business from problems like leaks, mold, and structural damage.

Types of Gutters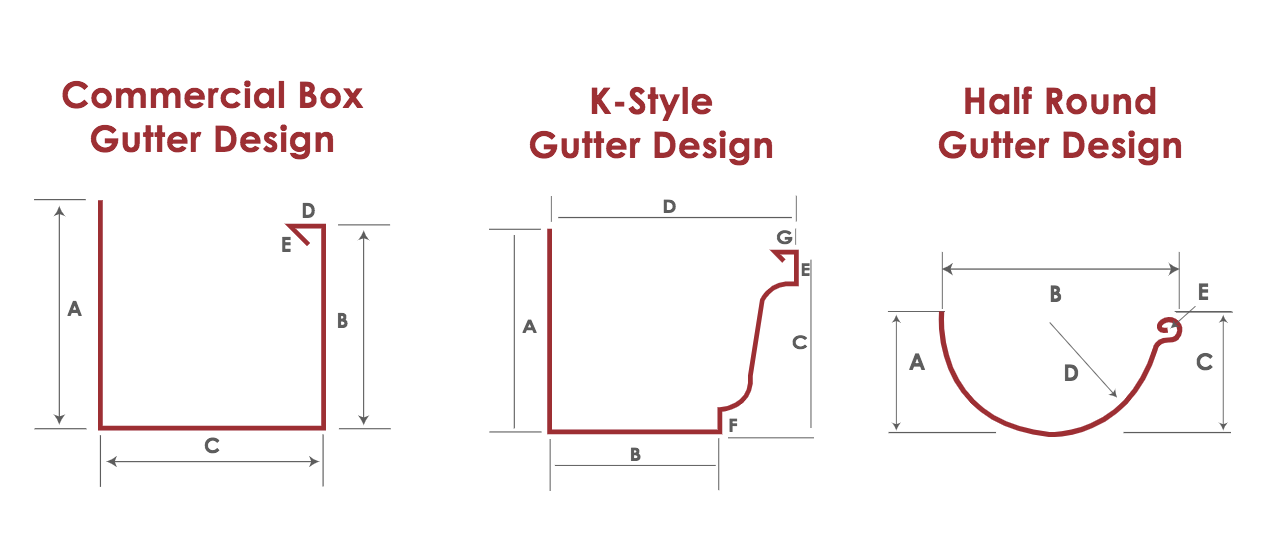 Many people assume that gutters all look and function the same way, but this is not the case. The size and shape of the gutter will affect how much water can be carried away from the structure at any given time. Different types of gutters include:
Half-Round - Half-round gutters are circular on the bottom, like a pipe cut in half. These gutters are common on historic roofs because they're decorative and attractive. The half-round shape limits the amount of water that can flow through the gutters, so sizing the gutters appropriately for the house is important.
K-Style - K-Style gutters have a flat bottom, decorative front, and a flat back. These gutters carry more water than half-round gutters and can hold more debris without becoming clogged. K-Style gutters are commonly seen on roofs built in the past 20 years.
Commercial Box - Commercial box gutters are large, spacious, and functional, but not as aesthetically pleasing as half-round gutters. However, they are heavy duty. These gutters are commonly found on commercial buildings for they need large amounts of water carried away quickly during heavy rainfall.
Gutter Composition
The material of your gutters is just as important as the type of gutter you choose. Common materials used for gutters include:
Aluminum - Aluminum gutters are lightweight, easy to install, relatively affordable, and can be painted. A popular choice for homeowners, a high percentage of gutters that are installed on homes are made of aluminum.
Steel - Galvanized or stainless steel gutters are known to be strong, paintable, and durable. However, they are susceptible to rust. In fact, many steel gutters will start to rust within the first 10 years of installation. If you choose steel gutters, regular maintenance and painting are recommended to keep them lasting a lifetime.
Copper - Copper gutters are beautiful, rust-free, and require no painting. They are professionally recommended often because of their longevity. Unfortunately, copper is pricier than other gutter types. Many historic homes and businesses have copper gutters, and many homeowners are beginning to upgrade their aluminum gutters to copper.
How to Tell If Your Gutters Need Maintenance
Checking for Clogs - Clogs can form in the gutters themselves, or the downspouts. The best way to tell if your gutters are clogged is to observe them during a rainstorm. Gutters are hung on a slight incline so that the water flows to the downspouts. If your gutters are clogged, water will visibly overflow at the downspouts.
When to Clean Your Gutters - The best time to clean your gutters is during fall, near the end of the season. If the gutters aren't cleaned once annually during this optimal time, they can become clogged with ice in the colder winter months. Over time, this can contribute to the formation of an ice dam, where ice forms under the shingles of the house and melts into the attic and walls, causing significant water damage.
Professional Repair & Maintenance
The best way to care for and clean your gutters is to trust the professionals. Homeowners and business owners who try to clean their own gutters can sometimes do damage, miss hard to reach areas, and may even injure themselves. Another benefit of hiring a professional company for gutter care is they will often be able to inspect other areas of your roof that might need immediate attention while they service your gutters.
Other types of maintenance that gutters regularly need include:
Caulking -

Seams inside the gutters need to be caulked to prevent leaks. Caulking usually lasts at least a couple of years, but older gutters may need caulking on a regular basis.
Re-hanging - If the gutters begin to sag, or if they droop away from the downspouts, this can cause the gutters to overflow without draining. When this happens, the gutters may need to be replaced or re-hung.
Professional roofing companies, like Pickard Roofing, can be trusted to perform all necessary gutter repairs and maintenance. Pickard Roofing believes in crafting long-term roofing solutions and the importance of preventative services to maintain a functional gutter system.
At Pickard Roofing, we think Design. Craft. Renew. We are experienced in all types of roofing systems- and provide the right roofing design and selective craftsmanship for renewing our customer's assets. We invite sustainable building customers to give us a call for your free evaluation. For over 90 years Pickard Roofing Company has installed countless metal, tile, slate, TPO, EPDM, and all types of shingle roofing in the Triangle. Our services include residential, commercial, custom architectural metal fabrication, and historical renovation.