Churches and schools face unique challenges during commercial roof replacement. The size, number of people who visit the site regularly, the cost - all these factors play a role in how the roof is replaced and what precautions must be taken when starting this kind of project.
Recently, Pickard Roofing replaced the roof on the Lerner School. We'll tell you about the decisions we made when replacing the Lerner School roof, so you can think about how this might be different at your own school or church if you took on roof replacement in the near future.
Timing Issues
It's hard to gauge when your commercial roof should be replaced. Regular maintenance and inspections will allow you to monitor the overall condition of your roof and plan for the roof replacement before it becomes an emergency situation. A quality contractor can estimate the remaining years in your roof, allowing you to start saving money years in advance.
Pick the Right Time of Year
Large projects like commercial roof replacements require more time and better weather than small residential jobs. Although roof replacement can happen at any time of year, it's best to perform these projects in warm, dry months. At the Lerner School, the original project was placed on hold from December until March to ensure better weather. This helped the project proceed smoothly throughout.
Schedule It At a Slow Time
Foot traffic around the building can be a hazard during the roof replacement, so it's best to schedule it during a week when students, congregation, or the public are out of the building. If work cannot be done when the building is empty, then it's crucial to work with your roofing contractor to ensure that the work can be done safely without putting the public at risk. The Lerner School roof replacement project was completed during spring break to ensure that the school received as few visitors as possible while the work was being done.
A schedule should be made for the day the project starts to the date of completion, with a few extra days to account for the unforeseeable circumstances. When we completed the Lerner School project, we gave ourselves nine days to complete the project but finished the work in eight.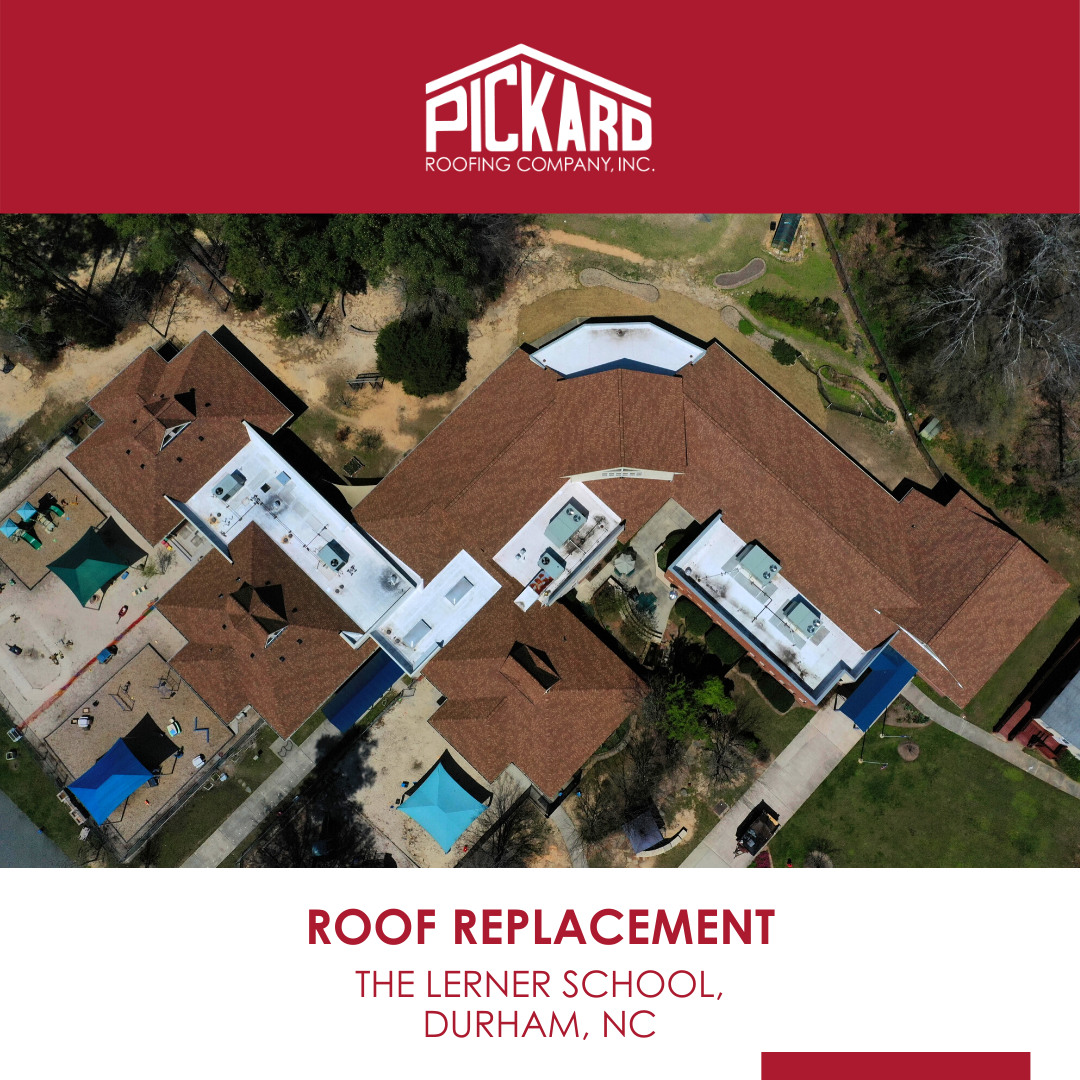 Other Roof Systems and Your Building
Most institutional buildings have more than one roof system, often low slope. Low slope roofs are very easily damaged, and during a project like this, flat roofs will be used for staging and receive a lot of foot traffic. Extra precautions should be taken to ensure these roofs are preserved. When the project is finished, flat roofs that were used during construction should be inspected. At the Lerner School, we protected their flat roofs with tarps, plywood, and daily inspections.
Documenting Damage
During the roofing project, gutters, siding, and other trim materials might be slightly altered or damaged. A good contractor will take the time to avoid this type of damage, but sometimes the damage is unavoidable. This should be relayed to the customer.
Upon completion of the Lerner School, we sent the facilities manager a document with pictures of other small issues around the building. We did not damage anything but rather noticed issues with siding and trim that were easier seen from the roof.
Cleaning Up
Cleaning up is incredibly important in the re-roofing process. This is exaggerated in a project like a school, where one nail on the ground can lead to a doctor's visit for a child.
Ground clean-up is not a stage of the project but something that should be handled constantly throughout. At the Lerner School, we had 3 workers who were solely devoted to cleaning up the grounds and very rarely stepped foot on the roof.
What and How Much to Tear Down
Pickard Roofing follows the rule of only tearing off in a day what we can install in that same day. Though modern-day underlayments have come a long way and can keep a building dry temporarily, they are not as effective as the full roof system. This is a chance Pickard Roofing does not like to take, and this process should be considered when re-roofing your buildings.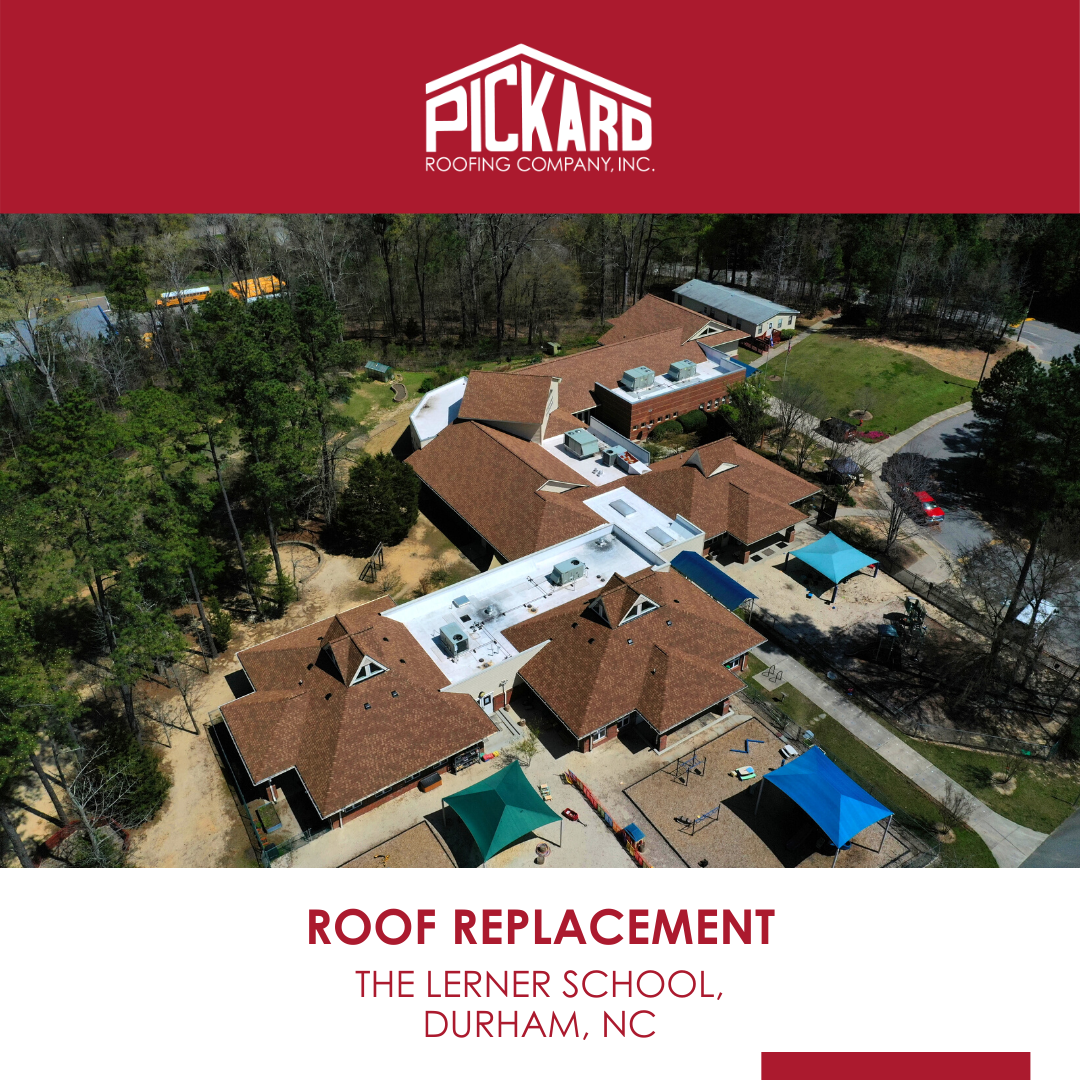 Choosing the Right Contractor
A large project has a considerable upfront cost with materials and equipment. Only a licensed and well-respected contractor should be trusted with the financial burden of a large project. Some contractors may ask for payment for materials before the work is done. In this case, payment should only be made once the material has been delivered to the job site. At Pickard Roofing, we typically do not require upfront payment of materials.
When to Get a Performance Bond
If the project is large enough, a performance bond can be requested by the customer. This is an insurance policy that protects the building owner from the risk of a contractor going out of business or not honoring their part of the contract. These are fairly inexpensive and are typically around 3% of the total project cost.
The Lerner School Replacement, a Testimonial
The Lerner School replacement went well and was an excellent example of how our methods work for our clients. They wrote a thank you letter when the work was finished, so you can see for yourself how this project went for our client:
We are VERY pleased with the new roof and with the level of service we have received from your company.
1) We chose Pickard after soliciting bids from a number of companies. Their bid was competitive with the others we received, but we have also experienced working with them in the past. They always show up when they say they will. They answered all of my many many questions before we signed our contract. They also gave us plenty of time to make our decision without any sales pressure. In addition, Tyler reached out personally to answer my questions. Overall, they were the company I was most confident in working with.
2) Yes, it was worth waiting. Pickard was honest about possible shipping delays and the overall timeline for starting and finishing the job. They worked closely with us to make sure we knew all of the options. One of our primary concerns about scheduling was the school needing to remain open. We also wanted to make sure that the students were safe during the process. Pickard worked with us to explore all of the options so we could figure out what would work best for our school. We initially planned to start the work during spring break and we thought initially it would run over for a few days for the final touches. Pickard also gave us accurate information about the shipping and manufacturing delays for different color shingles. We ultimately picked materials that met our needs. In a stroke of luck, our materials arrived earlier than scheduled and they were able to get the work done before school reopened (in less time than initially quoted). One of my biggest fears was the mess (NAILS) that are part of reroofing a building. Pickard was meticulous in their daily clean up. Our students have not found any nails in the weeks after the construction. We are very happy with both the process and the end product.
3) We initially started working with Pickard many years ago to patch our not that old roof, because we were fearful of the replacement cost. Because our roof was starting to fail and they were aware of potential shipping delays that were out of our control, Pickard included free repairs until the replacement as part of our contract to make sure we were well taken care of. They were always wonderful to work with and I am so glad that we contracted Pickard for our roof replacement. I highly recommend Pickard for both roof replacements and repairs.
Thanks again for your help Tyler.
We consider this a job well done. Are you hoping to replace the roof on your school or church? Contact Pickard Roofing to discuss your upcoming roof replacement. Call today to make an appointment.
At Pickard Roofing, we think Design. Craft. Renew. We are experienced in all types of roofing systems- and provide the right roofing design and selective craftsmanship for renewing our customer's assets. We invite sustainable building customers to give us a call for your free evaluation. For over 90 years Pickard Roofing Company has installed countless metal, tile, slate, TPO, EPDM, and all types of shingle roofing in the Triangle. Our services include residential, commercial, custom architectural metal fabrication, and historical renovation.